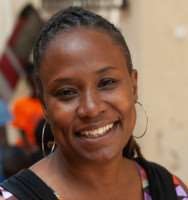 Co-Founder & Executive Director
ImagiNation Afrika
Yoff Rankhar près de l'Hôtel Océan
Dakar, Senegal
Email: karima(at)imaginationafrika.org
Web: https://www.imaginationafrika.org/wp/en/
Social entrepreneur, educational leader, co-founder Ker ImagiNation Playschools.
With over twenty five years experience working in the field of human development and education on three continents, I seek to change the ecosystem of learning for over 1 million young changemakers in Africa.
In my current role as founder and Director of ImagiNation Afrika, West Africa's first children's learning and innovation hub, I lead an amazing diverse team of change makers, designing and developing innovative educational programming integrating local culture, play and experiential learning to develop creative and critical thinking in children 6 months to 19 years and implementing our ecosystem approach to supporting young African changemakers across West Africa.
My vision: a world of African children change-makers solving the problems of development.
The Ker ImagiNation Afrika hub is a place that offers play areas and activities for children between six months and 14 years old in Dakar. The animators help the children and encourage them to find innovative practical solutions together. Through play and experiential learning, children hypothesize, experiment, fail, innovate, practice, pretend, suspend common beliefs, produce creatively, think critically and imagine. These are the fundamental qualities of those responsible for change. Allowing children to experience themselves and their abilities in new environments increases the creative confidence of the most marginalized children and helps them realize that they can make a significant contribution to society. The organization believes that creativity will be the driving force for development in Africa and that children will become the architects, engineers, artists and presidents of tomorrow. They are the ones who will bring light.
Ms. Grant has an undergraduate degree in African Studies from Mount Holyoke College and a Masters degree in Fiction Writing from Pine Manor College.