Call for Applications
Diverse Black Africa Program
Diverse Black Africa Program - Call for Applications [pdf]
The Alliance for African Partnership (AAP) in partnership with the Black Faculty, Staff and Administrators Association (BFSAA), MSU African Studies Center (ASC) and the Diversity Research Network (DRN) are seeking applications from MSU faculty, academic staff, and administrators in collaboration with colleagues from African institutions in the AAP consortium to participate in the Diverse Black Africa (DBA) program. Partnerships should lead to long-term collaborations between faculty, academic staff, and administrators from MSU and the partner institution.
The DBA program is a pilot initiative that will serve as a catalyst for a community of practice around the global African diaspora and international engagement with Africa. It will foster new collaborations and strengthen existing ties between Black African diaspora faculty, academic staff, and administrators at Michigan State University (MSU) with colleagues based at the 10 African universities in the AAP consortium. It supports MSU's diversity, equity and inclusion (DEI) strategic objectives, and continental initiatives to encourage the African Diaspora to participate in the building and integration agenda of the African continent. The DBA program will strengthen international research, teaching, outreach and institutional engagements that lead to increased co-authored publications with higher citation rates, externally funded grants, and career advancement, while enhancing international reputations. It is also expected to produce globally competent and culturally aware faculty, academic staff, and administrators who are highly valued.
Linking to AAP Pillars and Priorities
Applications for the DBA program must be related to AAP's pillars of building bridges, transforming institutions, and transforming lives and must also connect to at least one of the AAP's priority research areas agri-food systems; water, energy & the environment; culture & society; youth empowerment; education; and health & nutrition, as indicated.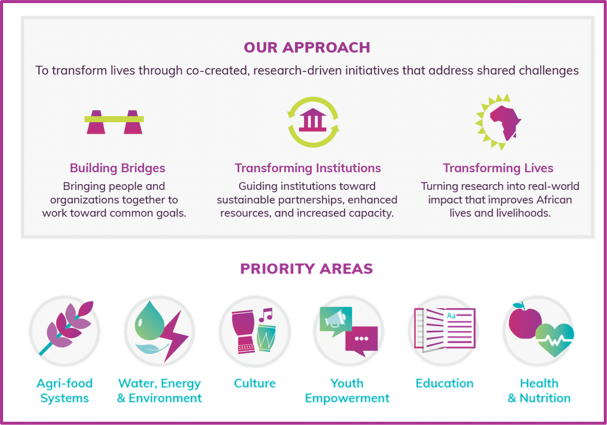 Program components
Teams of at least two faculty, academic staff or administrators (teams must have at least 1 MSU and 1 African institution represented) will participate in:
Virtual four-part dialogue series on building trust with international partners, the global African diaspora experience, best practices for engaging with Africa, and a racial healing circle to build authentic relationships that bridge divides created by real and perceived differences.
Virtual professional development workshop program on successful grant writing, engagement and outreach, career planning and advancement and leadership and career success.
Several teams will also receive a small grant to carry out a virtual or in-person collaborative project that may include one or more of the following (these are only examples; teams can propose other types of collaborative projects):

Joint research and publication to collect new data and publish, or publication fees for a joint review paper or a comparative analysis of data from US and Africa
Create a global classroom or a Collaborative Online International Learning (COIL) experience that facilitates sustained student collaboration to increase intercultural competence and strengthen key skills in public speaking, negotiation, research, analysis, writing
Establish a virtual global speaker series to stimulate and increase academic and scholarly interest about any Africa-focused topic within the AAP priority areas
Partial support for a travel exchange to enrich the academic experience of faculty, academic staff and administrators that should ultimately result in the development and submission of a collaborative proposal for external funding. Additional funding support may be needed to supplement the travel grant
A global collaborative summit at the end of the program offers a unique opportunity for all applicants to showcase new data, trends, and promising practices from their research, teaching, outreach and institutional strengthening collaborations. The summit will also involve a wide range of other stakeholders to influence and help advance the global African diaspora and Higher Education in Africa. 
As part of the monitoring, evaluation, and learning, teams will participate in an initial needs and expectation survey, a mid-term and final survey and data may be published as implementation papers or used for proposals to expand the program. Teams may also be featured in the AAP Voices video series, AAP podcasts and on other social media communication platforms.
Eligibility
Black Faculty, Academic staff or Administrator at any rank employed at MSU and born outside of Africa
Academic staff and Administrator at any of the 10 AAP African consortium universities  (Egerton University, Makerere University, University of Dar es Salaam, Lilongwe University of Agriculture and Natural Resources, University of Botswana, University of Nigeria, Nsukka, University Cheikh Anta Diop, University of Arts and Humanities, Bamako, United States International University-Africa, and University of Pretoria)
Hold an advanced or terminal degree
Previous experience working in Africa is not required. We encourage those who have never worked in Africa but are interested in exploring partnerships to apply
Postdoctoral scholars, research associates, or visiting scholars are not eligible
Application Requirements
A letter of interest that provides the reasons for applying to the DBA program, how their work is aligned to the approach and priorities of AAP, the region / country in Africa of interest (for MSU employees), and if there is a specific person of interest for collaboration (1 page)
An up-to-date curriculum vitae (CV) that provides a review of professional accomplishments including research and administrative interests and expertise
 A personal statement with headshot that includes an overview of the research, teaching, outreach and / or institutional strengthening collaboration interest including the proposed joint activities of interest (2-page)
A letter of recommendation from a Chairperson / Department Head / Dean (or an administrator of higher level) at the applicant's current institution
Selection Criteria
The final selection of applicants depends on the quality of their application package, evidence of mutual benefit for MSU and the African institution, appropriateness of time proposed, fit and quality of proposed match, and the potential for impact.
Submitting applications & Timeline
Application portal will open January 25th, 2022
Launch and information session – January 25th 2022
Application deadline – February 11th 2022
Applicants selected - February 25th 2022
DBA program expected to begin – March 4th 2022
Please note that these deadlines are tentative and subject to change.
Questions
Please contact Jose Jackson-Malete at jacks184(at)msu.edu or 517-353-6989 with any questions.
---