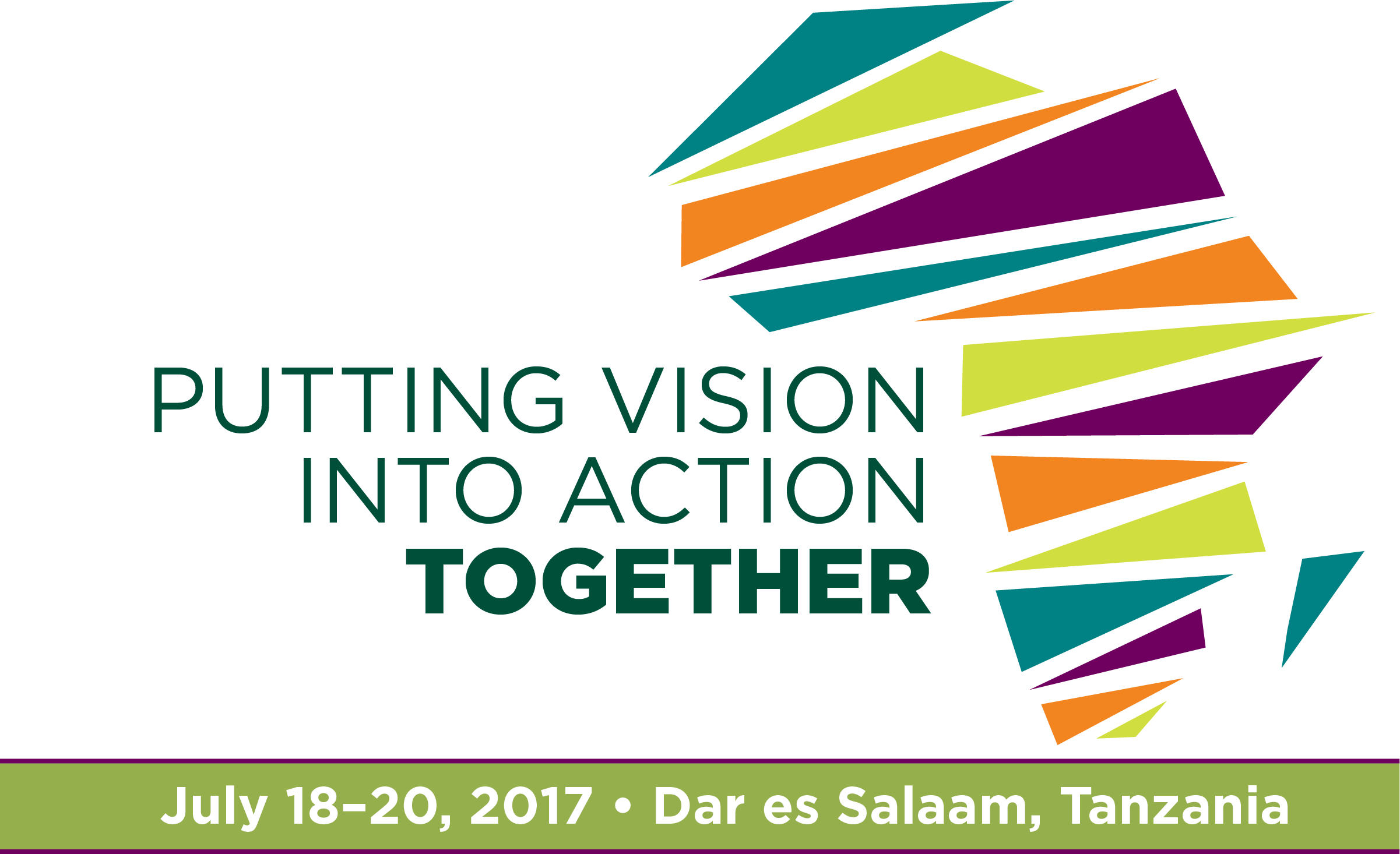 In partnership with the University of Dar es Salaam and RUFORUM, MSU is officially launching the AAP initiative this July in Dar es Salaam, Tanzania. Focused on the theme of "Putting Vision into Action Together," the launch will build on AAP's mission to bring about positive change in Africa through meaningful, equitable partnerships.
The launch event will be Africa-centered and feature prominent African leaders from higher education institutes, research bodies, NGOs, donor organizations and the private sector. The launch sessions are designed to be participatory and innovative, so that invitees will join together in a process of defining the landscape and vision of partnerships; sharing experiences; proposing new ideas for collaborative implementation; and identifying socio-cultural and material resources needed to bring vision into action.
---
Schedule of Events
Pre-Launch: Tuesday, July 18
14:00

 • 

A Conversation with University Leaders Co-Creating a Common Vision

This interactive session will feature African university leaders who will share their visions on 21st century partnerships in Africa as well as best practices and success stories for putting these partnerships into action. 
15:00

•

Registration




18:30

•

 
Grantee Celebration and Cocktail Reception
AAP Leadership will introduce the AAP grantees from the 2017 AAP Call for Proposals and describe their projects. Attendees will be able to peruse poster presentations from each team and speak to grantees about their planned activities. The posters will remain up for the entire launch event and grantees will have the opportunity to meet with guests and other potential partners to discuss their projects.
20:00

•

 

Buffet and Networking
AAP Launch Day 1: Wednesday, July 19
---
08:30

 • 

Registration




09:00

 • 

Opening Ceremony




10:00 

• 

Keynote Address: The Future of African Partnerships and the Role of the African Development Bank




10:30

 • 

Refreshment Break




11:00

 • 

The Changing Landscape of Partnerships Between African and International Organizations
This panel of distinguished officials from government, the private sector, funding agencies, universities and science academies will discuss new thoughts on landscape changes on innovative and inclusive partnerships and will continue to lay out the vision of how effective partnerships between international and African organizations need to be founded on new realities and principles.
12:30

 • 

Open discussion




13:00

•

 

Lunch




14:00

 • 

Perspectives on Social & Community Investment in Africa
This session will provide an opportunity for engaged dialogue on how foundations, corporations, and government funding agencies are collaborating with African and international partners to put visions into action to address significant issues on the continent.
16:30

 • 

Refreshment Break




17:00

 • 

Harvesting Day 1: Insights And Lessons
The panelists in this session will summarize and provide key takeaway messages from the sessions on Day 1. The chairperson will also encourage the audience to share their key takeaway messages.
17:30

 • 

Open Time




19:00

 • 

AAP Gala Evening
Attendees will be treated to an evening of dinner, entertainment, and networking. During dinner, attendees will hear the keynote address: Transforming Lives Through Technology in Africa.
AAP Launch Day 2: Thursday, July 20
---
09:00
 • 
Building Bridges And Transforming Lives In Action
This keynote session will showcase and spark dialogue about success stories where positive and reinforcing partnerships between African and International organizations have improved lives for African communities.
10:00
 • 
Open Discussion
10:30
 • 
Refreshment Break
11:00
 • 
Co-Creating Into Action
Participants will join together in rotating focus groups to design/prototype what an Africa-led program aligned to the AAP pillars (Building Bridges, Transforming Institutions and Transforming Lives) should focus on. The session chairs will facilitate interaction and will guide the discussion at the end of the rotations.
13:00
 • 
Lunch
15:00
 • 
Closing Baraza
The closing session will take the format of a "talking circle" of African representatives (including AAP grantees), who will share what they have learned and their recommendations for putting the AAP vision on 21st century partnerships with African institutions into action.
17:00

•

 
AAP Advisory Board Meeting (invitation only)
Grantee Workshop: Friday, July 21
This is a one-day workshop for grantees to share experiences with their partnership development and strengthen their capacity for writing winning grant proposals and communicating their research for impact. Final schedule TBD.
Featured Speakers
Confirmed speakers and panelists are listed below, and additional names will be added as they are confirmed.
---
Prof. Berhanu Abegaz
Former Executive Director, African Academy of Science; Member of the African Union High Level African Panel on Emerging Technologies, Ethiopia
Prof. Aggrey Ambali
Head and Advisor of NEPAD Science, Technology and Innovation Hub, South Africa
Dr. Yaw Ansu
Chief Economist, African Center for Economic Transformation (ACET), Ghana
Ms. Katlego Arnone
Founder and Chairman, Violet Vine, Congo
Dr. Thelma Awori
Executive Director and Founder, The Institute for Social Transformation, Uganda 
Chairperson, AAP Advisory Board
Prof. Kweku Bentil
Vice Provost, Aga Khan University, Tanzania  
Prof. John Ddumba-Ssentamu
Vice Chancellor, Makerere University
Dr. Boniface Dulani
Senior Lecturer and Afrobarometer Fieldwork Operations Manager, University of Malawi
Prof. Steven Hanson
Associate Provost and Dean, International Studies and Programs, Michigan State University, USA
Dr. Romelle Horton
Deputy Minister, Instruction, Ministry of Education, Liberia
Prof. Thomas Jayne
University Foundation Professor, Agricultural, Food, and Resource Economics; Co-Director, Alliance for African Partnership, Michigan State University, USA
Dr. Lulu Kaaya
Director for Internationalization, University of Dar es Salaam, Tanzania
Hon. Chance Kabaghe
Executive Director, Regional Network of Agricultural Policy Research Institutes (ReNAPRI); Executive Director, Zambian Agricultural Commodity Exchange, Zambia
Prof. Alexander Kahi
Deputy Vice Chancellor for Academic Affairs, Egerton University
Dr. Agnes Kalibata
CEO, Alliance for a Green Revolution in Africa (AGRA)
Prof. Eli Katunguka
Kyambogo University
Prof. Emmanuel Kaunda
Interim Vice Chancellor, Lilongwe University of Agriculture and Natural Resources
Mr. Francis Kiwanga
Executive Director, Foundation for Civil Society, Tanzania
Prof. Alexandre Lyambabje
Executive Secretary, Inter University Council For East Africa, Uganda
Ms. Marsha Macatta-Yambi
Scientific & Regulatory Affairs Manager, Corp Comm & Public Affairs Manager, Nestlé Equatorial African Region, Tanzania
Dr. Sarah Maongezi
Non-Communicable Diseases Coordinator, Ministry of Health, Tanzania 
Mr. Bongani Mgijima
Director, Stellenbosch University Museum, South Africa
Prof. Richard Mkandawire
Director, AAP Africa Secretariat, Malawi
Prof. Penina Mlama
Mwalimu Julius Nyerere Chair in Pan African Studies, University of Dar es Salaam, Tanzania 
Prof. Kgomotso Moahi
Interim Vice Chancellor, University of Botswana, Botswana
Dr. Celestin Monga
Chief Economist and Vice President, Economic Governance and Knowledge Management, African Development Bank, Côte d'Ivoire
Prof. Jamie Monson
Director, African Studies Center; Co-Director, Alliance for African Partnership; Professor of History, Michigan State University
Ms. Fumani Mthembi
MD Knowledge Pele, South Africa
Dr. Beatrice Muganda
Director for Higher Education, Partnership for African Social and Governance Research, Kenya
Prof. Rwekaza S. Mukandala
Vice Chancellor University of Dar es Salaam
Dr. Agnes Mwang'ombe
University of Nairobi
Ms. Bongiwe Njobe
RUFORUM Board Member, Uganda
Prof. Emmanuel Nnadozie
Executive Director, African Capacity Building Foundation, Zimbabwe
Dr. Cosmos Ochieng
CEO, African Centre for Technology Studies, Kenya
Prof. Ruth Oniang'o
Founder, Rural Outreach Program and Editor, AJFAND, Kenya 
Dr. Moses Osiru
Deputy Executive Secretary, RUFORUM, Uganda
Prof. Benjamin C. Ozumba
Vice Chancellor University of Nigeria, Nsukka
Prof. Mandivamba Rukuni
Director of the Barefoot Education for Afrika Trust (BEAT), Zimbabwe
Prof. Macki Samake
Rector, University of Arts and Humanities of Bamako (ULSHB)
Mr. Haddis Tadesse
Deputy Director, Global Development, Gates Foundation
Dr. Imani Tinda
Executive Director, Tanzania Youth With New Hope in Life Organization (TAYONEHO), Tanzania 
Mr. Gidibo Tindwa, Program Officer
Segal Family Foundation
Prof. Emilio Tostão
Dean, Eduardo Mondlane University, Mozambique
Ms. Pauline Wambua
MasterCard Foundation Scholar, Michigan State University, USA
Prof. Paul Tiyambe Zeleza
Vice Chancellor, United States International University, Kenya 
Hotel & Travel

Welcome to Dar es Salaam, Tanzania
The AAP launch event will take place at the Hyatt Regency Dar es Salaam, the Kilimanjaro, a waterfront luxury resort hotel with spectacular views of the harbour and Indian Ocean. The headquarters hotel is located in the heart of Dar es Salaam, in close proximity to the airport and nearby hotels. For additional information about traveling to Tanzania for the event, please use the links below.
---
Accommodations
The Alliance for African Partnership has arranged special rates at the following hotels. To book, contact the hotel directly and mention the AAP Launch to receive the discounted rate.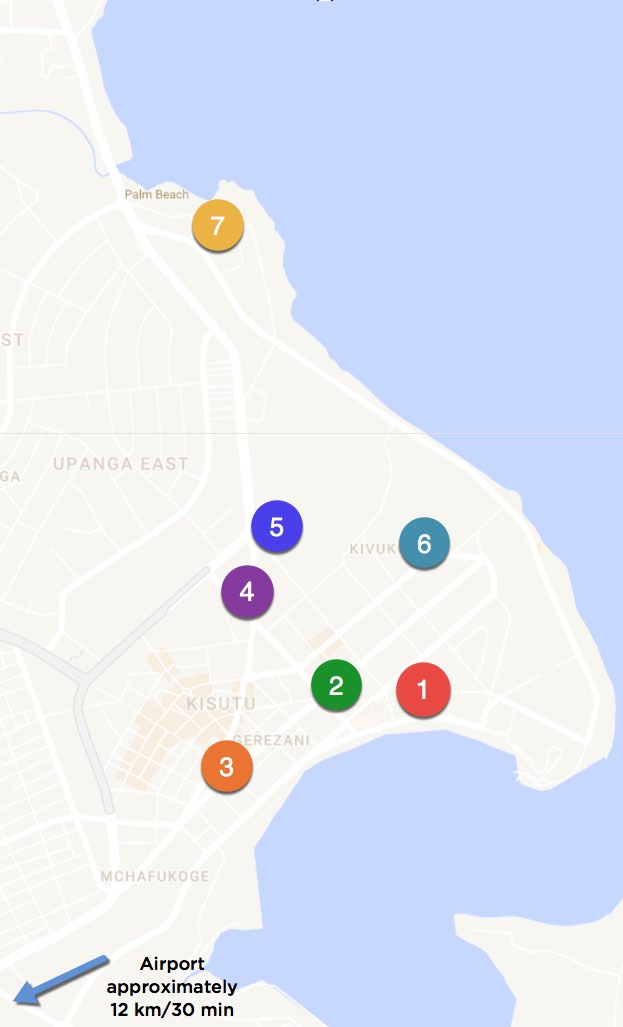 Hyatt Regency Dar es Salaam,
The Kilamanjaro 
(Event Headquarters) 
US $260
Contact: 

Johnstone Mayaka

New Africa Hotel
US $126.50 
Contact: Caroline Mushi, cc:
Harbour View Suites 
US $96.5 (Standard)
US $131.50 (Executive king) 
Holiday Inn 
US $139
Serena Hotel
US $205
Southern Sun 
US $206.50
Protea by Marriott 
US $135 
Contact: Getrude Goodluck

Meals
Meals that will be provided to participants during the Alliance for African Partnership Launch include:
July 18: cocktail buffet
July 19: lunch, dinner
July 20: lunch
Tea and coffee breaks will also be provided between launch sessions.
If you have any special dietary needs please contact Wanjiku Kariuki. 
Airport & Transfers
You will arrive at Julius Nyerere International Airport in Dar es Salaam.
Airport transfers will be provided by the airport shuttle bus service of the hotels. The arrival and departure times need to be provided to the hotels by all guests. The shuttle will be waiting at the airport arrivals area with the hotel name on a placard. You will need to identify yourself to the driver, who will transport guests directly to the hotels.
Private airport transfers can be arranged by contacting F.M Tours Company. Contact: Frederick Ananga, phone: +255 764 586 008 or email. 
NOTE: Please be alert with your personal belongings (suitcase and carry-on baggage). This is to avoid any untoward incidence of loss of baggage. If any loss occurs please immediately contact the airport desk.
Traveling to Tanzania
Visa Requirements
Citizens from most countries are required to obtain a visa to enter Tanzania. Some participants may require an invitation letter from AAP in order to apply for the visa so please advise us as soon as possible to provide this letter to you. For information about current Tanzania visa requirements for your country of citizenship, please visit the website for the Tanzania embassy: non-US citizens • U.S. citizens. The application process may take at least 5 business days, therefore it is advisable that you complete this process as soon as possible to avoid delays and disappointment.
Medication
We recommend that you consult with your personal physician regarding immunizations and prescription medicines you may need for travel to Tanzania. We also recommend that you carry mosquito repellent to apply in the evenings while outdoors.
Yellow Fever
A valid vaccination card certifying yellow fever vaccination is required for entry to Tanzania. Please be sure that you have your yellow fever vaccination certificate ready along with all your other travel documents before you board your flight.
Weather
Dar es Salaam is hot and humid. July is a cold season at 23°C (73°F) however showers may be expected. We suggest that visitors bring light cotton clothing and light jackets or sweaters to be in tune with this weather, especially the warm days and cooler nights.
Currency
The currency used in Tanzania is the Tanzanian Shilling (TSHS), although some places accept the use of foreign currency. The current exchange rates for USD is at 2230 TSHS, for the British pound is at 2785 TSHS, the EURO 2404 TSHS, Kenyan Shilling 21 and Ugandan shillings is at 0.65 TSHS. International currency exchange is available at most international hotels and at many other locations in Dar es Salaam. There are also ATM machines at the Hyatt Regency Hotel and nearby banks in the downtown area that cater to Visa and MasterCard customers.
Attend
If you would like to attend the AAP Launch, please fill out the following form and an AAP staff member will contact you with additional information. 
---
Contact
For questions, please contact:
Alliance for African Partnership
Waridi Events