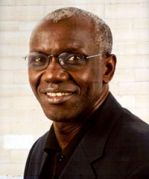 Prof. Ibrahima Thioub is the incumbent Rector /President of the Assembly of UCAD since August 2014.
Prof. Ibrahima Thioub did his Baccalaureate in Literature in 1978, and Certificate of Specialization in History of Africa in 1981. He did his Masters in 1982 and a doctorate degree in 1989 from the University of Paris.
Professor of History at UCAD since 1990 and an Associate Member of the Nantes Institute for Advanced Study Foundation since 2009, Ibrahima Thioub specializes in slavery studies.  He is regarded as a specialist in the social and cultural history of Africa. He was awarded honorary Doctorate degree by the University of Nantes, France, in March 2012.
Having command on three languages, Wolof (native), French (working) and English (spoken), Prof. Thioub teaches courses on the history and historiography of Senegal; history of Islam in Senegal (Xth-XXth centuries); and Slavery in Africa.
He was a visiting professor at the EHESS and several universities in the United States, Europe and Africa. He was the international director of an international research program on alcohol and drug abuse in Asian countries (Nepal, India, Sri Lanka) and in many African countries (Gambia, Sierra Leone, South Africa). In 2008-2009 he was a researcher-resident at Wissenschaftskolleg in Berlin. 
Prof. Thioub's current research interests are in slavery in daily life of Saint-Louis, Senegal (18th-19th centuries); and intellectual history of Francophone Africa and African identities. He casts a critical eye on African readings of slavery and the Atlantic slave trade. Besides the employment of slaves in economic activities, he studied their role in social relations and their legal expressions in private and public spaces. His study is part of a historical perspective, paying particular importance to the changes recorded in the time of the city and its environment.
He founded the African Centre for Research on Treaties and Slavery (CARTE) and serves as its Director. He has also been rendering services as:
Executive Director of Centre for Research on Social Policies (CREPOS) (October 2009 - present)
Director publication of the journal History & Heritage in Africa: Research and Experiments  (January 2008 - Present) 
He has been contributing to different councils, boards and associations as following:
Member of the Scientific Council of the University Cheikh Anta Diop Dakar – since 2007
Coordinator of the Cluster of Excellence Regional "Slavery and Treaties: Communities, Borders and Identities" – since July 2007
President of the West African Research Association (WARA) – since June 2004
Chairman of History Department, Cheikh Anta Diop University (Dakar) – 2004-2008
Member of the Board of the Association of African Historians (AAH) – since 2001; and
Editor of Afrika Zamani