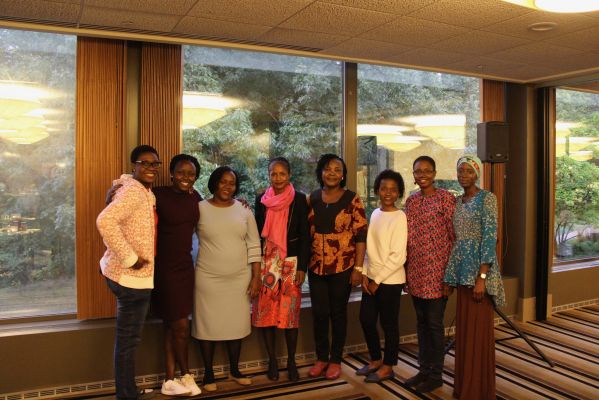 AAP African Futures Scholars from the first cohort (2019) gather at a welcome reception
The AAP established the African Futures Research Leadership Program in Fall 2019 with an inaugural cohort of eight early-career female researchers who came to MSU to develop their research leadership capacity from AAP's African member institutions in Uganda, Malawi, Nigeria, Senegal, Mali, and Tanzania. The purpose of this competitive program is to build the next generation of African researchers so they can become scientific leaders in their community, help solve Africa's challenges, and in turn become mentors to future generations of scholars. The African Futures fellows who have participated in the first cohort will be a part of an African regional and global web of collaborations focused on finding solutions to global challenges. Indeed, the co-mentorship model and cohort-building activities are designed to foster strong relationships between the fellows and among institutions.
Fellows' research focuses on such issues as countering violent extremism and peacebuilding education in West Africa; addressing the gender dimensions of wildlife trafficking across Africa; improving soil health and agriculture production in Malawi and Tanzania; building the resiliency of young people through sports programs; advancing cattle breeding genetics in West Africa; and increasing nutrition outcomes in southern Africa.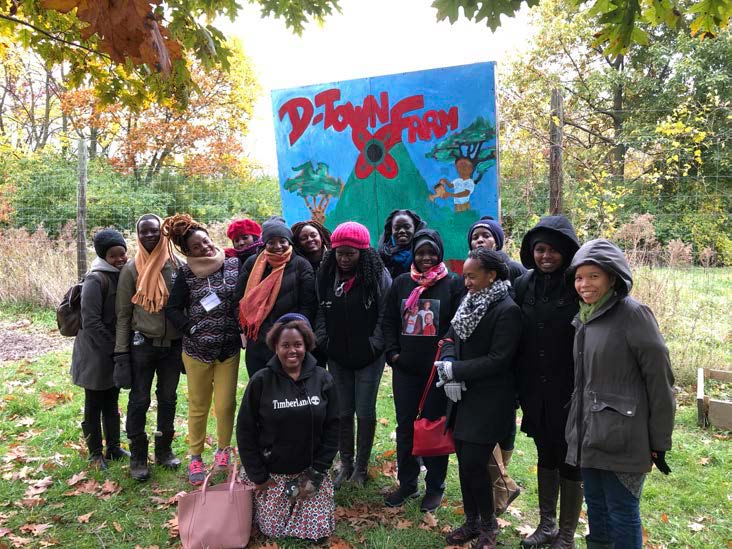 The Fall 2019 cohort of U.S. Department of State Advancing Young Women in Agribusiness Professional Fellows visits D-Town Farm in Detroit, Michigan
In recognition of the critical role that young emerging leaders, especially women, play in their societies and the importance of economically empowering them to enable growth in their communities, AAP and its international partners are implementing the Advancing Young Women Agribusiness Entrepreneurs and Innovators Professional Fellows Program (PFP), funded by the U.S. Department of State Bureau of Educational and Cultural Affairs. The fellowship brings young people from Kenya, Tanzania, and Uganda to MSU for a five-week program of on-campus seminars, dialogues, professional development sessions, and placement at Lansing-area organizations doing work in agribusiness and community development. The program encourages mutual interaction and learning among the professional fellows, US mentors, technical experts, and in-country partners which will lead to long-term, innovative, and mutually beneficial projects between the U.S. and Africa. Now in its third year, the program has graduated 59 alumni from East Africa. They have returned home as young leaders to share their experience and help guide their communities into a more prosperous future.
When COVID-19 spread across the globe, PFP alumni in East Africa faced a difficult challenge of continuing their community engagement in safe and socially responsible ways. Whether working in the nonprofit sector or operating a for-profit enterprise, alumni found innovative ways to integrate public health information, to enact new sanitation techniques, and to distribute essential items to their communities, employees, and customers. Samuel Kiggundu, a PFP alumnus from Uganda, and his organization the Bagonvu Elderly Women's Foundation, provided sanitation training and supplies, established hand-washing stations, and connected people with mental health services throughout rural villages in his district. In Tanzania the disease arrived along with the bi-annual pineapple harvest; unable to shut down her wine-making enterprise due to it being the primary source of income for over a hundred small-scale pineapple farmers, Judith Karia provided personal protection gear for her employees, rearranged her production facility to allow for greater social distancing, and introduced an employee rotation system to further safeguard her workers and farmer-suppliers. In Kenya, Dorine Ngeti works with the Government Affirmative Action Fund who provided triage-testing tents to hospitals, personal protective equipment to health care workers, and distributed face-masks and hand sanitizer to those working in the informal economy for whom social distancing is impossible. These examples are indicative of the inspirational initiatives being designed by the PFP alumni to meet the current and emerging needs of their communities.
As nations came to terms with the COVID-19 pandemic, struggled to find ways to cope, and moved quickly to find solutions to this global crisis, the AAP in partnership with the African Studies Center established a six-part dialogue series which brought together experts from across the AAP consortium to share their experiences and insights. The objectives were to share innovative solutions and catalyze action around key challenges; increase awareness of African universities as knowledge brokers/leaders on the continent; establish areas for future collaboration amongst the consortium members and other partners that tackle the pandemic; strengthen ties between the AAP consortium members in this time of crisis; and ensure that investment in universities post COVID-19 is a priority for African governments, the private sector, and donors. The first topic in the series covered the immediate responses to the pandemic and lessons learned including contributions made to society by African universities. The other topics in the series addressed issues around international collaboration; educational access; food and economic security, the pandemic's psychosocial impact; and opportunities for partnership across sectors to address COVID-19-related challenges.
The dialogues events have each engaged a wide variety of active participants. The series has been attended by over 1,900 unique attendees from 53 countries across every continent. Recordings of the dialogues have also had over 1,500 views and have generated ten featured articles in the online publication, University World News, reaching their circulation of over 50,000 people.
The panelists featured in the series were just as diverse as the attendees, featuring vice chancellors and leadership from every AAP member university, the University of South Africa and the African Union Commission. MSU President Samuel Stanley presented in the dialogue addressing educational access and shared how MSU and African partners might work together to chart new paths for open and distance education. The final dialogue in the series brings together funders and representatives from the private sector to explore future opportunities for partnership and engagement to mitigate the effects of COVID-19 in communities around the world.
The AAP Dialogue Series has served as a bridge among MSU faculty and African researchers across the continent. Out of these dialogues, five African-led research teams have formed to address a variety of pressing COVID-19-related topics. These topics include:
Social behaviors and population movement patterns and the influence on the risks of COVID-19 transmission in South Africa, Botswana, Nigeria, Uganda and Malawi
How physical activity might mediate fear, anxiety and depression, associated with the Covid-19 pandemic in Botswana, Tanzania, Nigeria, and Ghana
Designing locally-produced ventilators for in Uganda, Tanzania, Botswana and Senegal  
Global South artificial intelligence and data innovation
Addressing educational inequalities and access in the age of COVID-19