Vice Chancellor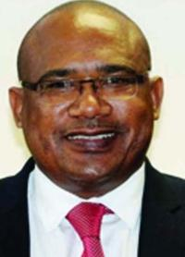 University of Botswana
Private Bag UB 022
4775 Notwane Rd.
Gaborone, Botswana
Email:david.norris(at)mopipi.ub.bw 
Professor David Norris is the sixth Vice Chancellor of the University of Botswana having assumed office on December 1, 2017. Prior to joining UB, Professor Norris was Deputy Vice Chancellor for Research and Innovation at the Botswana International University of Science and Technology (BUIST), a position he had held since 2016.
Before he joined BUIST, he worked for the University of Limpopo (formerly University of the North), South Africa from 2000 to 2016. He also worked for Austin Peay State University, USA from 1998 to 2000.
Professor Norris is a graduate of the University of Botswana having obtained his BSc in Biology and Physics in 1988 following which he worked for the Department of Agricultural Research as well as a part time biology lecturer at UB.
Professor Norris holds a PhD in Animal Science obtained from the Michigan State University (USA) in 1998 with a major in Animal Breeding and genetics and Minors in Statistics and Animal Biotechnology.
In addition, he holds an MSc in Animal and Forage Science obtained from the University of Reading (UK) in 1991 with a Major in Animal production and Minors in Biochemistry.
Professor Norris has a Graduate Certificate in Agricultural Research for Development which he obtained from the University of Wageningen International Centre for Development Oriented Research in Agriculture (ICRA) in The Netherlands in 2008.
Professor Norris is a renowned scholar who has published widely in reputable journals. His notable strengths are in Innovative Teaching and Learning; Curriculum Development and Review; Research Development and Innovation; and Higher Education Administration and Management; Change Management, Process Management and Strategic Leadership; with a notable record in research collaboration and research fundraising.