Peacebuilding through peace education and the arts in Mali
AAP grant empowers youth through community-based art and literature to counter violent extremism
In September of 2016, the Alliance for African Partnership (AAP) issued an open call for research proposals that target the AAP's thematic areas of agri-food systems; water, energy and the environment; youth empowerment; education; culture; and health and nutrition. After receiving over sixty-five proposals, fifteen proposals were chosen to be awarded between $50,000-$200,000 towards their projects that would create long-term and sustainable collaborations between MSU faculty and partners from African organizations.
Now, three years of diligence and passion later, these research teams have finished their research. To celebrate and share this collaboration, effecting positive change in Africa through meaningful and equitable partnerships, we are highlighting a success story from one of the teams and their project, "Countering Violent Extremism in Mali: Critical Reasoning, Moral Character, and Democratic Resilience through Peace Education".
This research project was led by MSU's Dean of the Residential College in the Arts (RCAH) and Humanities, Stephen L. Esquith, and Maria Diarra, the director of l'Institut pour l'Education Populaire, a school in Kati, Mali. With help from Professor Macki Samake of Universite des Lettres et des Sciences Humaines, a university in Bamako, Mali, this team of researchers spent their time working on three deliverables to promote peace education in Mali.
The first of these deliverables was a new and refined version of The Mali Peace Game, a political simulation that was created for peace education in 2015. The new updated version of the game was tailored to a wider range of students, seeing as the original version was developed for middle school students. With the updated game, Esquith, Diarra and Samake have integrated it into the basic curriculum in Mali (specifically language arts, history, social science, and visual and performing arts).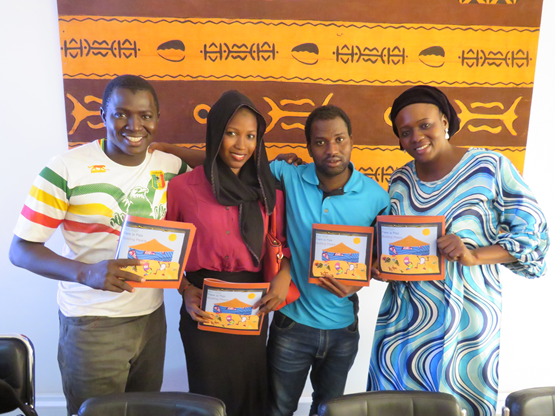 The second deliverable that came out of this research project is the creation of a new picture book, Ben Sigili/Faire la Paix (Make Peace). Made by teachers and students, the book has a special focus on conflicts between displaced persons and other property owners. Copies of the book were distributed to all students at l'Ecole Ciwara, a K-9 school, to be used in their classrooms as texts for reading in French, Bamanankan, and English and as prompts for skits and role-playing exercises. Through the MSU Scientific Animations without Borders, they were also able to create a video animation of Ben SIgili/Faire la Paix, which has enabled them to train more teachers and leaders in other regions of the country.
The third and last component of the research project was the hosting of local dialogue forums where students, teachers, and invited community members discussed the issues raised by the short presentations from the Mali Peace Game and scenes from the picture books.
With combined expertise from RCAH at MSU and ULSHB in Mali, help from local K-12 Malian educators, and funding from AAP's strategic partnership grant program, this research team was able to apply active learning techniques in the arts and humanities to the study of conflict, conflict resolution, and conflict transformation, as well as introduce new digital technology to the production and distribution of new peace education materials in order to create a wider peacebuilding network. Not only was the research team able to accomplish their goal of distributing hardcopy and digital materials to the local community in Kati, but they were able to train new leaders and peace educators and spread their efforts beyond Kati. Many of the teachers who helped create these materials have gone on to work in other non-governmental organizations where they have introduced these peace education tools and techniques in other regions of Mali.
Since completing their research and peace education efforts, Esquith and Diarra's team has held three workshops in Mali with representatives l'Ecole de Maintien de la Paix in Bamako, the International Sports Alliance in Mali, Right to Play in Mali, the Ecole Ciwara in Kati, RCAH, and the Universite des Lettres et des Sciences Humaines. They have also found further funding to continue their work and continue shaping the lives of youth in Mali.