ReNAPRI Becomes 12th Member of the Alliance for African Partnership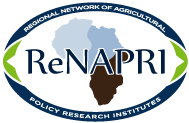 13/04/2021 – Michigan: The Alliance for African Partnership (AAP), has announced the approval of a 12th member of the Consortium, the Regional Network for Agricultural Policy Research Institutes (ReNAPRI).
The union strengthens the value propositions of both AAP and ReNAPRI as leading institutions in policy research on the African continent and beyond. ReNAPRI was nominated by Egerton University, one of the 10 AAP African member universities. The application was unanimously approved at the AAP Consortium meeting on March 18th, 2021.
"ReNAPRI's objectives are aligned with AAP's. Both organizations are focused on supporting Africa's transformational agenda," said Richard Mkandawire, AAP Africa Director.
ReNAPRI will contribute to AAP's activities through identifying continental priorities, partnering on program planning, building partnerships and mobilizing resources, carrying out joint research and outreach, among others. In the past three years, AAP and ReNAPRI have collaborated on a number of activities, including:
1. Organizing joint events at pan-African conferences, including the African Green Revolution Forum (AGRF), African Capacity Building Foundation sponsored Think Tank Summits, Regional Universities Forum for Capacity Building (RUFORUM) conferences, among others.
2. Organizing joint side events at the World Food Prize Norman Borlaug Dialogues in Iowa
3. Partnering on technical work that will inform the planned African Fertilizer Summit II, scheduled to take place in 2022.
Four of AAP's member universities – University of Pretoria, Lilongwe University of Agriculture and Natural Resources (LUANAR), Egerton University and Makerere University – are ReNAPRI partners.
For further inquiries, please contact:
aap(at)msu.edu
nalishebo.meebelo(at)renapri.org
Notes for editors
1. Previously, AAP consortium had 10 African university members and MSU
2. For more on AAP, visit https://aap.isp.msu.edu/about1/who-we-are/aap-consortium-members/
3. ReNAPRI was established in 2012 with membership from a number of African countries to share data and policy related information to benefit national governments and its region, within the context of African agricultural transformation.
4. Headquartered in Lusaka, Zambia, ReNAPRI is present in the Democratic Republic of Congo (DRC), Ghana, Kenya, Malawi, Mozambique, South Africa, Tanzania, Uganda, Zambia and Zimbabwe.
5. For more on ReNAPRI visit www.renapri.org