Mastercard Foundation Scholars Program Celebrates Graduation of Class of 2021
On Friday May 7, 2021 at the Student Services Building Garden, a commencement and a conclusion took place. Twenty-two (22) students representing the last MSU class of the Mastercard Foundation Scholars Program graduated. This milestone was celebrated in a colorful graduation ceremony that was graced by MSU faculty and staff, host families and members of the Greater Lansing Area.
The MCF Scholars Program at MSU is a Mastercard Foundation sponsored program that strives to build a network of globally educated African leaders who are adequately equipped with the requisite skills, competencies, and resources for ethical leadership, career success, and a life of service that supports Africa's transformational goals. The program focuses on four main pillars: leadership training, career education and internship, community service and learning, and entrepreneurship. The program offers a variety of support services to help scholars from the moment they receive the scholarship to when they enter career fields or pursue further education.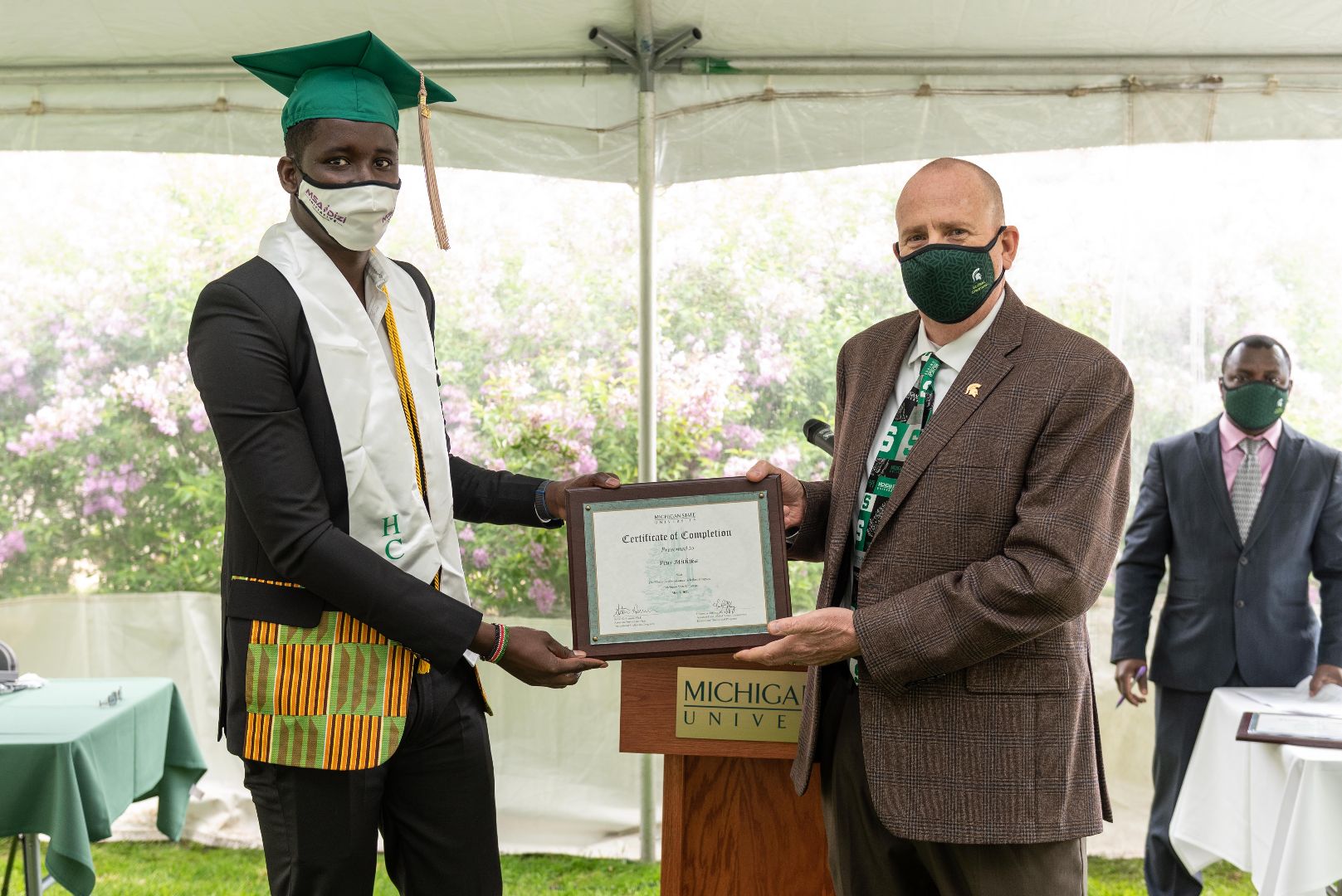 The Associate Dean for Academic Programs at the International Studies and Programs (ISP), Dr. Robert Glew, opened the commencement with remarks that extolled the Scholars for their resilience and impact they have made on MSU culture. He encouraged them to stay connected to MSU and use the skills they have acquired to bring about transformative change.
Following his remarks, Dr. Chinwe Effiong, the Assistant Dean of Global Youth Advancement presented the Transformative Leadership Awards to scholars who have demonstrated relevant qualities of transformative leaders over the academic year. She noted that all although a handful were being awarded, the programs experience with each of the graduating scholars convince her that all of them are deserving of the award. She urged scholars to stay true to themselves and enter the world with the confidence that they have what it takes to make it. Dr. Effiong also thanked all the staff of the scholars program for their dedicated support for the scholars' development.
"Remember in all that we do, we are enough; we are chosen, and we are the actual cake not just the cream of Africa and everyone wants a slice!"
In presenting the certificates to the scholars, Dr. Kwame Yeboah, a Senior Program Officer for Global Youth Advancements, shared an anecdote about a donkey climbing his way out of a well and likened it to the resilience of the scholars. "During your stay here at MSU, many were the challenges that were thrown at you: homesickness and cultural shocks, Michigan's frigid temperatures in winter, difficult assignments and project papers that required sleepless nights, and a COVID-19 pandemic that lasted through your senior year," Dr. Yeboah said. "But no matter what was shoveled your way, you shook it off, stepped on it, rose to higher heights, and now you're ready to step out of the well into the real world." He assured them of the program's continued commitment to partner with them as they work to advance Africa's transformation goals.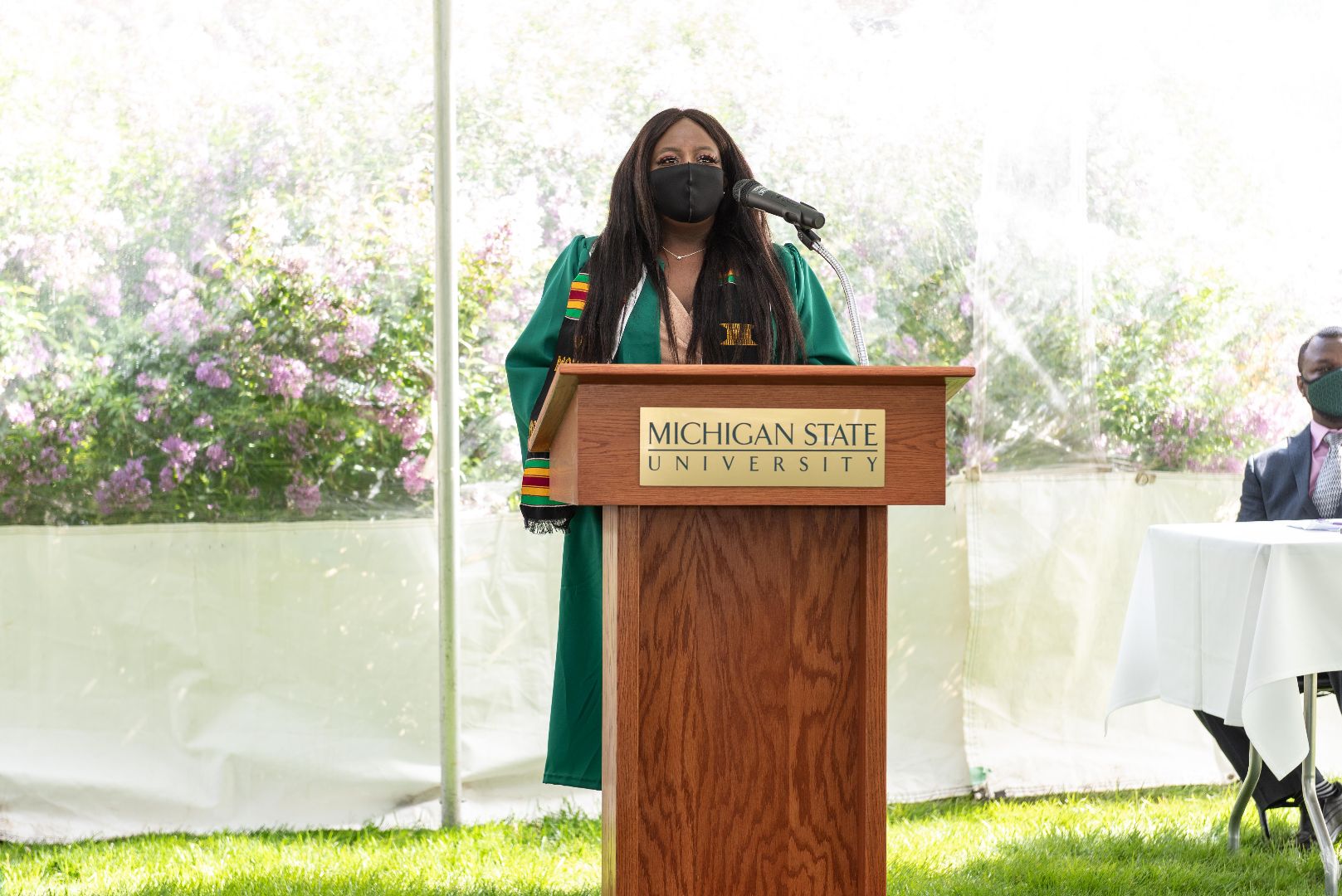 During the presentation of the certificates, each scholar had an opportunity to share a few words. Most of them expressed gratitude for the opportunity afforded them to access world class education, which given their backgrounds was beyond their reach. They thanked all who had contributed to their success and encouraged their fellow scholars to stay connected and build on the successes they have chalked.
The Scholars' Council Representative, Chido Pamela Matsika, reflected on their collective academic journey in her closing remarks. Chido encouraged her fellow graduates, "Remember in all that we do, we are enough; we are chosen, and we are the actual cake not just the cream of Africa and everyone wants a slice!"
A shared feeling of joy washed over the Deans of Programs at ISP, MSU Faculty, Advisors and Scholars who were present. After a year of the COVID-19 pandemic, this was the first time many had seen each other in person. Dr. Yeboah noted how the ceremony was bittersweet: "On one hand, we were excited to celebrate the incredible milestone in the lives of the graduating Scholars," he said. "It is, however, disappointing to consider that such an impactful program is drawing to a close as the last cohort graduates this year. We remain optimistic about the future prospects of re-engaging with the Foundation or other funders to continue with the program."